The Basics of Molecular Biology
Todd Edwards
What is molecular biology? First, I should say that biology is the study of life and how it works. That is a pretty broad statement, but it distinguishes biology from other fields like physics, chemistry, geology, etc. It isnít a perfect system since the fields overlap in certain areas, but weíll ignore that for now. Donít worry, it will be the subject of a later article. Next, there are several levels of biology where life is studied in different size ranges. The biggest level is studying the organism as a whole, for example, a zoologist who uses zebra fish to study the developmental process as a single cell grows into a fish. The next smaller level is studying isolated cells or groups of cells. Cell biologists might use fluorescence microscopy to study changes in a cell as it develops from a stem cell into, say, a muscle cell. The smallest level encompasses studying the molecules that make up the cell. Molecular biologists might study how interactions between protein molecules like actin and myosin result in muscle contraction.
Molecules are the basic building blocks of life. They are groups of atoms that are all connected together to form a single unit. Molecules range in size from very small water molecules that consist of two hydrogen atoms and an oxygen atom to enormous proteins or strands of DNA that might have 6000 or more atoms! Molecular biology is mainly concerned with four classes of molecules: nucleic acids, carbohydrates, proteins, and small molecules. Nucleic acids are the information carriers such as deoxyribonucleic acid (DNA) and ribonucleic acid (RNA). Carbohydrates, such as glucose, are usually used for energy sources. Proteins serve pretty much all the other functions in a cell, and there are many different proteins. Small molecules serve many purposes as well, such as storing energy in adenosine triphosphate (ATP) or intercellular signaling with hormones. To be complete, I should mention that atoms, such as calcium, sodium, and potassium, are also important to molecular biology even though they arenít strictly molecules.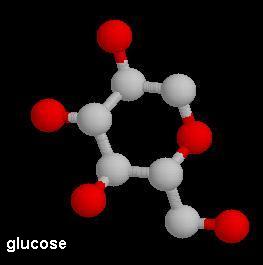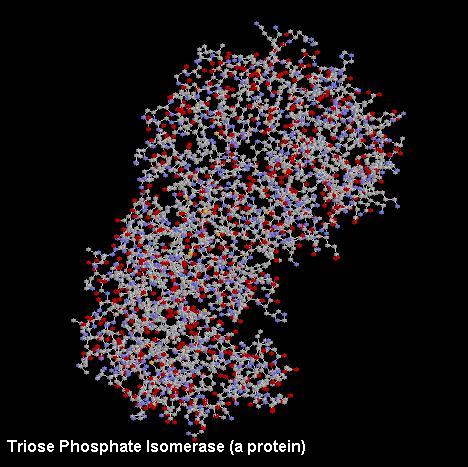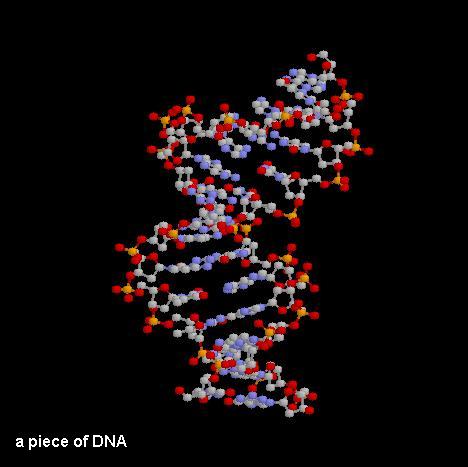 One of the most important concepts in molecular biology is that all of the various molecules are interrelated. DNA is a linear molecule that contains the codes for each protein, and these codes are called genes. A gene is a piece of DNA that is the blueprint for a single protein, for example triose phosphase isomerase or TPI for short. TPI is a protein that is involved in converting glucose, a carbohydrate, into ATP, so it is a pretty common protein. When a cell wants to make more TPI, a transcribing protein will read the code from the TPI gene in the DNA and produce a piece of RNA that will be a copy of the gene. The DNA has to stay in the nucleus of the cell, but the smaller sized RNA can leave the nucleus and get into the main body of the cell. Once there, a ribosome, a large molecule made of two proteins, will translate the RNA into the TPI protein. Finally, many proteins are responsible for making or interacting with carbohydrates and small molecules. Confused? The figures below should help clear up the process. You should notice that since the DNA is a linear molecule the RNA and proteins are also linear molecules.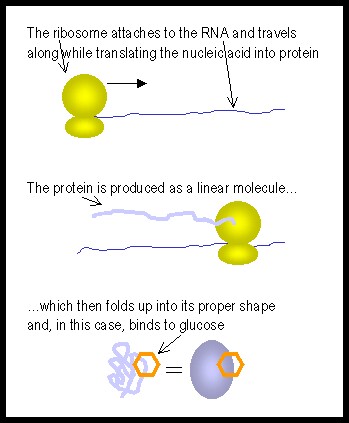 Scientists who study biology on the molecular level usually separate themselves into several interrelated fields. Genetics is concerned with figuring out how the DNA codes for the proteins. DNA contains more than just the blueprints for the protein; it also contains sequences that help determine when the protein is produced, how much is produced, etc. Geneticists sequence DNA in order to figure out the codes for all the genes plus the purpose of the rest of the DNA. Biochemistry is concerned with studying how certain proteins catalyze chemical reactions amongst small molecules, other proteins, atoms, etc. Biochemists are essentially looking at the chemistry that goes on inside cells. Finally, molecular biology covers the rest: interactions between molecules, details about how proteins work, relating the structure of the protein to its function, and much more.
I could cover many pages describing the details of all the interesting molecular biology research, but ultimately it all boils down to the same idea. Molecular biology is the study of the building blocks of life. Understanding how these biomolecules work will help us understand how cells work, which, in turn, will help us learn about organisms, and then ecosystems, societies, and so on, and so on. Molecular biologists lay the foundation for all other biological research.